In the early days of the Covid-19 pandemic, there were doom and gloom prophesies about a down turn in the real estate market.  However, in the Kingston area, real estate markets have held strong and home values continue to increase.  Year to date, at the end of October, average home prices have grown by 21.9% over 2019.
Spring Market Became Late Summer/Early Fall Market
2020 started strong.  The market outpaced 2019 with 7% higher home sales and 11% growth in average price.  Due to the pandemic, things slowed substantially in mid-March during what is traditionally the busy spring market. As restrictions lifted, the market rebounded with a surge of activity.  From May through October, new listings grew by 4.9% and the number of homes sold grew by 33.9%.  The "spring market" became a "late summer – early fall market" and is still going strong.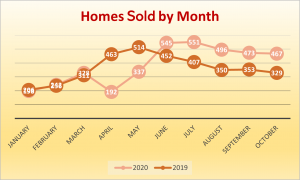 For several years, low inventory has made Kingston a "sellers market". Homes sell quickly, often with multiple offers, and prices are moving steadily upwards.  Historically low interest rates, first-time buyer incentives, and low rental vacancies have created strong buyer demand.
Increased Pressure on Prices as New Buyers Enter the Market
The local real estate market was already competitive.  The pandemic increased demands on the local real estate market.  Young buyers, who had been saving for travel and weddings, pivoted and entered the housing market.  The need for space to work/school from home led happy homeowners on a quest for more indoor and outdoor space.  Remote workers,  no longer  tied to their workplace, realized that Kingston offers tremendous value for your home-buying dollar.  Cottage sales have increased by 23% as urban residents escape the city.  While average prices increased across our market area,  rural communities such as Napanee, Gananoque, Frontenac County and Lennox and Addington out-paced Kingston for growth in property value.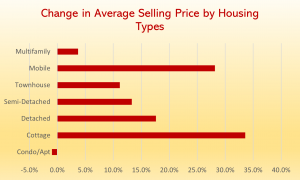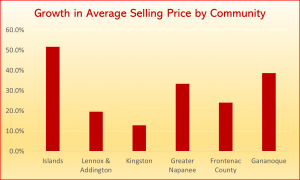 Is Now a Good Time to Buy or Sell?
So what does this mean for buyers and sellers?  Recent reports from the Bank of Canada suggest that interest rates will remain steady until 2023.  Beyond that, the pandemic continues to create uncertainty and I will leave the prophesies to people who are smarter than me.  When I am asked whether now is a good time to buy or sell a home, my answer is "It depends.  In some situations, now is the perfect time to buy or sell, in others it may be best to wait".  The key is understanding the market, considering the pros and cons of moving now versus waiting, and putting together a strategy that meets each client's unique situation.  Are you considering a move?  Let's get together (with social distance) and put together your strategy!
All data provided by Kingston and Area Real Estate Association MLS®