We participate in an amazing RE/MAX initiative and would love to tell you about it. RE/MAX real estate professionals believe in giving back to the communities in which they live and work, with a charitable focus on strengthening the foundation of this country's great neighbourhoods. RE/MAX does this by lending support to valuable local initiatives, organizations and programs that make a profound difference in the care and quality of life for Canadian citizens, such as Children's Miracle Network (CMN).
Since RE/MAX and CMN first partnered in 1992, Canadian RE/MAX agents have donated more than $89 million to their local children's hospitals through the Miracle Home or Commercial Miracle Property program. CMN raises funds and awareness for 12 Children's Hospitals in Canada, and donations stay local to fund critical treatments and healthcare services, pediatric equipment and research.

Meet 11-Year-Old Evelyn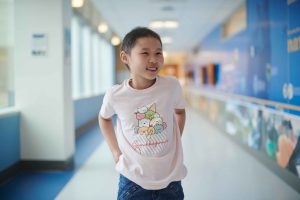 Evelyn is active, outgoing, and loves to dance and do cartwheels. But in Grade 2, her life took an abrupt turn in a direction that she and her family could not have imagined.
Evelyn developed a fever and sore jaw which both a walk-in clinic and emergency room physician attributed to a virus. A week later, the pain and fever were back, and one side of her face was sore and swollen. After more physician visits, a blood test was ordered.
That night, Evelyn's mother got a call from the lab telling her to immediately take Evelyn to BC Children's Hospital. Within hours, the family received unfathomable news – Evelyn had acute lymphoblastic leukemia (ALL). If not treated quickly, this type of leukemia could be fatal.
Evelyn started chemotherapy the very next day and was treated at BC Children's Hospital. In the beginning, Evelyn received her ALL treatment every two weeks, for four days at a time. She completed her treatment in the fall of 2021 and is now back at school, seeing her friends, performing again, and full of life.
Her form of cancer is very curable if the patient receives the right care and at the right time. Thanks to BC Children's Hospital, Evelyn quickly got what she needed and is thriving.
This incredible story is just one from the thousands of children across Canada who stand strong in the face of illness and disease every day. They're stories of hope, resilience, and love. But they also show how great the need is, across children's hospitals from coast to coast. By choosing a RE/MAX Agent who participates in the Miracle Home or Commercial Miracle Property program, you are helping to give kids their childhoods back.
By choosing a RE/MAX agent that is part of the Miracle Home or Commercial Miracle Property program, you are helping children's hospitals deliver care, with nearly three million in-person and virtual visits taking place in 2021 alone.

The Miracle Home and Commercial Miracle Property Program
The Miracle Home and Commercial Miracle Property program is and exclusive program to RE/MAX agents, where participating agents donate on behalf of their clients after each property sale or lease. In 2021, RE/MAX affiliates across Canada have donated more than $5.4 million to Canadian children's hospitals.
When you buy or sell a property with a RE/MAX agent participating in the Miracle Home program, which we do, you can help make miracles happen. Once your property sells, we will donate to your local CMN member hospital on your behalf. You can feel good knowing that when you choose to buy or sell with us you are also choosing to help make a difference in a child's life.
Thank you for choosing RE/MAX. By positively changing the health of children, we will change the health of Canada.